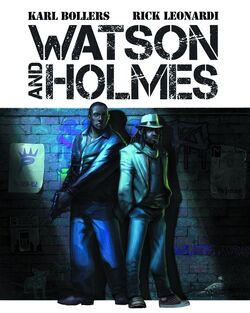 Watson and Holmes is a comic book series written by Karl Bollers with art by Rick Leonardi. It features Sherlock Holmes and John Watson as African Americans in New York City's Harlem district. The story was a modern urban take on the Sir Arthur Conan Doyle stories and had Watson take a lead role, as emphasised by the title.
Watson was an Afghanistan war veteran and worked in an inner-city clinic; Holmes was a local P.I. who took unusual cases. When one of them ended up in Watson's emergency room, the unlikely duo struck up a partnership to find a missing girl. Watson and Holmes bumped heads along the way as they entered a labyrinth of drugs, guns, and gangs, and a conspiracy that went higher and deeper than they could have imagined.[1]
There are four issues of the comic. #1 and #2 both in full colour and in "Noir Edition", which is a black and white pencilled version with letters.[1]
The project sought funding on Kickstarter.[2]
External links
Edit
References
Edit
Ad blocker interference detected!
Wikia is a free-to-use site that makes money from advertising. We have a modified experience for viewers using ad blockers

Wikia is not accessible if you've made further modifications. Remove the custom ad blocker rule(s) and the page will load as expected.