NOT COMPLETE....yet
Hero of the Reichenbach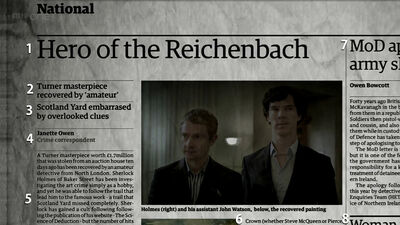 Turner masterpiece recovered by 'amateur'
Scotland Yard embarrased by overlooked clues'.
A Turner masterpiece worth £1.7million that was stolen from an auction house ten days ago has been recovered by an amateur detective from North Londo
n. Sherlock Holmes of Baker Street has been investigating the art crime simply as a hobby, and yet he was able to follow the trail that lead him to the famous work – a trail that Scotland Yard missed completely. Sherlock Holmes has gained cult following following the publication of his website – The Sci-ce of Deduction-but thr number of hits[offscreen]
==Scotland Yard calls upon 'nation's favourite detective' in Moriarty trail==

Jenette Owen
In a twist worthy of a Conan Doyle novella, Mr. Sherlock Holmes was yester- day revealed to be an expert witness at the trial of 'Jim' Moriarty. Described by many commentators as the trial of the century, the case has all the ingredients of a block buster film. The royal family, Scotland Yard, the world of finance and greed, the 'underclass' of prisoners out to seek revenge as they enjoy their own fifteen minutes of freedom. The case is riddled with irony and intrigue but per- haps reflects a larger malaise that seems to be at the heart of a society.
Mr Holmes, a man of few words, declined to comment when asked about his involvement in the case. It is understood that a woefully depleted Scotland Yard, yet again had to call in the services of [offscreen] [favourite?] detective. Holmes' [offscreen]
Ad blocker interference detected!
Wikia is a free-to-use site that makes money from advertising. We have a modified experience for viewers using ad blockers

Wikia is not accessible if you've made further modifications. Remove the custom ad blocker rule(s) and the page will load as expected.