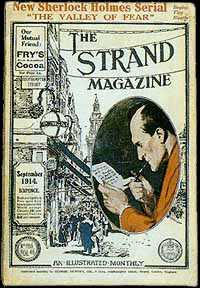 The Strand Magazine was a monthly magazine first published in January, 1891. It was founded by George Newnes and aimed at a mass-market family readership. It contained a mixture of factual articles, short stories and serials, most of which were illustrated to some extent.
The Sherlock Holmes stories by Sir Arthur Conan Doyle were first published in The Strand and were illustrated by Sidney Paget. The first to appear was "A Scandal in Bohemia", which was published in the July, 1891 issue.
External links
Ad blocker interference detected!
Wikia is a free-to-use site that makes money from advertising. We have a modified experience for viewers using ad blockers

Wikia is not accessible if you've made further modifications. Remove the custom ad blocker rule(s) and the page will load as expected.