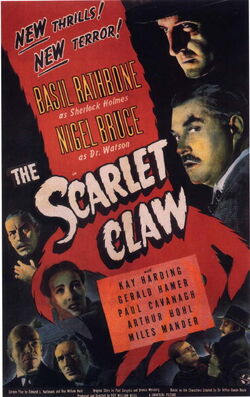 The Scarlet Claw is a 1944 American Sherlock Holmes film directed by Roy William Neill. It was the eighth film to star Basil Rathbone as Sherlock Holmes and Nigel Bruce as Dr John Watson.
Sherlock Holmes and Dr John Watson find themselves in Canada investigating a series of gruesome murders supposedly perpetrated by a supernatural creature.
Gerald Hamer as Alistair Ramson
Paul Cavanaugh as William Penrose
Arthur Hohl as Emile Journet
Reception
Edit
The Scarlet Claw is considered by many fans to be the finest of the twelve Universal Pictures Sherlock Holmes films.[citation needed]
Ad blocker interference detected!
Wikia is a free-to-use site that makes money from advertising. We have a modified experience for viewers using ad blockers

Wikia is not accessible if you've made further modifications. Remove the custom ad blocker rule(s) and the page will load as expected.