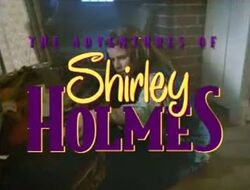 The Adventures of Shirley Holmes is a Canadian television series that ran for four seasons from 1996-1999. The series was created by Ellis Iddon and Phil Meagher.
Plot
The grand-niece of Sherlock Holmes, Shirley, lives in Canada and solves crime after local crime with the assistance of her  best friend, Bo Sawchuk, and meeting opposition from Molly Hardy.
Cast and characters
Episodes
Season One
Season Two
Season Three
Season Four
Ad blocker interference detected!
Wikia is a free-to-use site that makes money from advertising. We have a modified experience for viewers using ad blockers

Wikia is not accessible if you've made further modifications. Remove the custom ad blocker rule(s) and the page will load as expected.