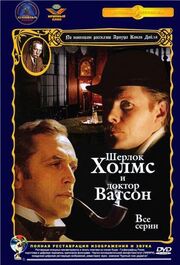 The Adventures of Sherlock Holmes and Dr Watson (Приключения Шерлока Холмса и доктора Ватсона) was a series of television films made by the Soviet Union between 1979 and 1986. Commonly known as "Russian Sherlock Holmes" by Western fans,[citation needed] they were actually mostly filmed in the Latvian capital, Riga. They starred Vasily Livanov as Sherlock Holmes and Vitaly Solomin as Dr. Watson. Vasily Livanov became an Honorary Member of the Order of the British Empire in 2006 for his portrayal of Holmes. The director was Igor Maslennikov.
Regular Cast
Edit
Vasily Livanov as Sherlock Holmes
Vitaly Solomin as Dr. Watson
Rina Zelyonaya as Mrs. Hudson
Borislav Brondukov as Inspector Lestrade
Igor Dmitriev as Tobias Gregson
Episodes
Edit
The series is notable for, unlike some Western adaptations, staying relatively close to the literary source. Many departures (such as Holmes's lack of cocaine use and Watson's military service taking place in "the East") were done to satisfy the Soviet censors. Vasily Livanov's Holmes is also one of the nicer, more easy-going portrayals, and several characters are used for comic relief.
Production
Edit
The series' soundtrack was composed by Vladimir Dashkevich. The tune intentionally resembles an hourly musical logo played on the shortwave BBC World Service, and Maslennikov (the director) confirmed in a later interview that he wanted a very similar tune which could be identified with the spirit of Great Britain. It is perhaps one of the most recognisable soundtracks in the former Soviet Union.
Ad blocker interference detected!
Wikia is a free-to-use site that makes money from advertising. We have a modified experience for viewers using ad blockers

Wikia is not accessible if you've made further modifications. Remove the custom ad blocker rule(s) and the page will load as expected.