"The Adventure of the Speckled Band"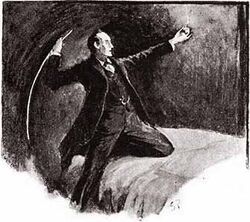 "The Adventure of the Speckled Band" is one of the most famous short stories of the Sherlock Holmes adventures written by Sir Arthur Conan Doyle.
A young woman named Helen Stoner contacts Sherlock Holmes and Dr. Watson for aid in foiling the villainous plans of her stepfather, Grimesby Roylott.
Sherlock Holmes wakes Dr. John Watson up early one morning, telling him that the housekeeper, Mrs. Hudson, roused him because a client has arrived, a young woman. Watson gets dressed, and they find their client waiting in Holmes' waiting room. She tells them that her name is Helen Stoner, and that she lives with her stepfather, Dr. Grimesby Roylott, the last survivor of the noble Roylott family of Stoke Moran. She explains that her mother met Roylott in India when she and her sister Julia were only two, but on their way back to England, her mother was killed in a railway accident. Despite this, they came to live in Stoke Moran. Holmes also learns that 250 pounds of the family money would go to each daughter once they married. Not to long later, though, Julia became engaged, after which she was killed in her very own room. The dying woman's words were: "The band! The speckled band!" Helen also tells them that Roylott let a gypsy camp stay nearby. After she leaves, Roylott himself appears and threatens Holmes to stay out of his business.
Later, Holmes and Watson journey to Stoke Moran and investigate. They make a good observation of everything in Roylott's bedroom, and Helen's bedroom. Helen reveals that her stepfather moved her to Julia's room after her death, which is now her bedroom. Holmes then says that he has solved the case, and tells Helen that he and Watson will be at an inn nearby to catch the killer in the act.
That night, Holmes and Watson find a swamp adder snake (the speckled band) trying to kill Helen, at which point Holmes attacks. The adder attacks the first person it sees, which just so happens to be the mastermind behind the case: Roylott. He is killed by his own murder weapon. Holmes explains how he solved the case, and admits that he felt completely responsible for Roylott's death; but that he is unlikely to feel much guilt over the death.
Complete Story Text
Edit
"The Adventure of the Speckled Band" is one of the most popular Sherlock Holmes stories. In 1931, it was turned into a film, starring Raymond Massey.
Conan Doyle himself listed it among his favourite Holmes tales.
See also
Edit
Ad blocker interference detected!
Wikia is a free-to-use site that makes money from advertising. We have a modified experience for viewers using ad blockers

Wikia is not accessible if you've made further modifications. Remove the custom ad blocker rule(s) and the page will load as expected.