"The Adventure of Wisteria Lodge"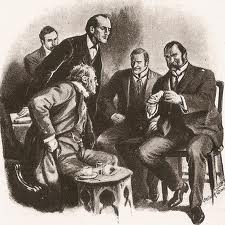 "The Adventure of Wisteria Lodge" is a Sherlock Holmes short story written by Sir Arthur Conan Doyle. It belongs to the collection of Sherlock Holmes stories called His Last Bow and is written in two parts: "The Singular Experience of Mr John Scott Eccles", and "The Tiger of San Pedro".
Note: This is a generic section stub. You can help Baker Street Wiki by expanding it.
Part One: "The Singular Experience of Mr John Scott Eccles"
"Have just had most incredible and grotesque experience. May I consult you? — Scott Eccles, Post Office, Charing Cross"
―John Scott Eccles, by telegraph
Sherlock Holmes and Doctor John Watson receive a client named John Scott Eccles, who is beginning to tell the story of his recent "grotesque" experience when Inspector Tobias Gregson arrives, along with a comrade, Inspector Baynes of Surrey. It is soon revealed that the two have been following Eccles for a statement regarding the recent death of a man named Aloysius Garcia.
Eccles exhibits shock at hearing of Garcia's death. Gregson says that the police had found a letter in the dead man's pocket from Eccles, showing that he had intended to pass Garcia's house that night. Holmes suggests that since Gregson had wanted a statement from Eccles, he could stay and listen to the man's story, as he had been about to tell it just before the police had entered.
Ad blocker interference detected!
Wikia is a free-to-use site that makes money from advertising. We have a modified experience for viewers using ad blockers

Wikia is not accessible if you've made further modifications. Remove the custom ad blocker rule(s) and the page will load as expected.