Stephen Fry was the actor who played Mycroft Holmes in Sherlock Holmes: A Game of Shadows.
Fry is well known as an English actor, screenwriter, author, playwright, journalist, poet, comedian, television presenter, film director, and director of Norwich City Football Club. He is also known in Britain for his audiobook recording, especially as a reader for all the famous Harry Potter novels. He is currently portraying the British Prime Minister Alastair Davies in the 24: Live Another Day TV series.
He is very tall, about 6' 5" (1.95 m), and quite heavy-set, which often makes those who work with him seem less imposing. In Britain he is well known for his immense Twitter following (over 1M) and well-documented struggles with bipolar disorder (cyclothymia). Earlier in his career much was made of his sexual orientation, but this has seemingly been eclipsed by his popularity and cyclothymia.
Media
Interview about Sherlock Holmes: A Game of Shadows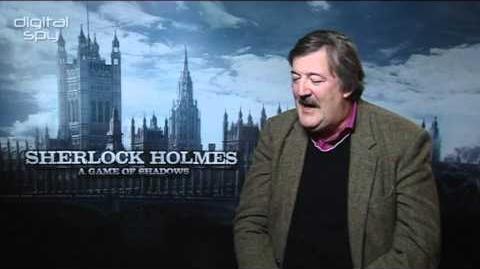 External links
Ad blocker interference detected!
Wikia is a free-to-use site that makes money from advertising. We have a modified experience for viewers using ad blockers

Wikia is not accessible if you've made further modifications. Remove the custom ad blocker rule(s) and the page will load as expected.