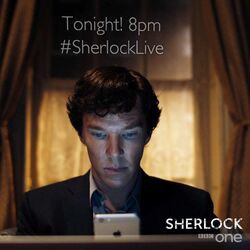 "Will you solve the case before Sherlock reveals the answer?"
―Tag line
Sherlock live was a planned live event, created by the BBC, to coincide with their 2017 broadcast of Sherlock's fourth series. It is scheduled to happen on Tuesday 10 January at 8pm (GMT) on the Official BBC Sherlock page or Twitter account.
The writers of Sherlock Steven Moffat and Mark Gatiss will laying the foundations of a new case on BBC One's twitter. Clues are being dropped from the BBC One account and via the #SherlockLive hashtag, with deduction powers being tested in an event spanning 30 minutes.
The case
External Links
Ad blocker interference detected!
Wikia is a free-to-use site that makes money from advertising. We have a modified experience for viewers using ad blockers

Wikia is not accessible if you've made further modifications. Remove the custom ad blocker rule(s) and the page will load as expected.