Sherlock Holmes Baffled

Title Card Added for later Public Domain prints.
Film information

Directed by

Arthur Marvin

Cinematography

Arthur Marvin

Distributed by

American Mutoscope and Biograph Company

Release Date(s)

1900 (US)
1903 (re-release)
Sherlock Holmes Baffled
 is a 30-second motion picture originally released for arcade amusement mutoscope machines in 1900 and later copyrighted in 1903.
This 30-second film is officially the earliest known film to feature the literary character of Sherlock Holmes, as well as the earliest known mystery movie.
Sherlock Holmes tries everything he can to prevent his home from being burgled by a mysterious figure, but remains increasingly baffled with the situation when things start to disappear and so does the mysterious burglar.
Anonymous actor as Sherlock Holmes
Another unknown actor as disappearing burglar
Allusions
Edit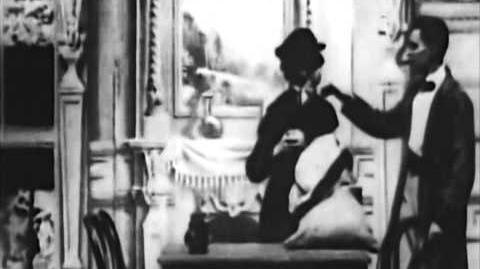 External links
Edit
References
Edit
Ad blocker interference detected!
Wikia is a free-to-use site that makes money from advertising. We have a modified experience for viewers using ad blockers

Wikia is not accessible if you've made further modifications. Remove the custom ad blocker rule(s) and the page will load as expected.