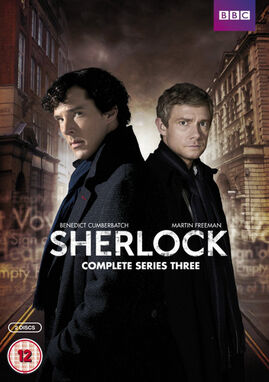 Season Three
Edit
Production
Edit
The news of a third Season of the show was kept under wraps due to the ending of "The Reichenbach Fall" being a surprise. Immediately after the episode finished, Steven Moffat posted on his Official Twitter Page: "Yes, of course, there is going to be a third Season – it was commissioned at the same time as the second. Gotcha!"[1]
Filming began on 18 March, 2013.[2] Due to Sherlock's popularity, there was massive interest in the filming of Season three, with fans following the on-location filming. Jeremy Lovering admitted that some fake scenes were filmed in order to try and keep the plot a secret.[3]
At the Edinburgh International Television Festival in August 2012, Season co-creators Steven Moffat and Mark Gatiss teased Sherlock fans with three words to describe the nature of the new episode trilogy: 'Rat', 'Wedding' and 'Bow'.[4] Steven Moffat, Mark Gatiss and Steve Thompson wrote an episode each. Gatiss wrote the first episode and it is loosely based on "The Adventure of the Empty House". Thompson wrote the second episode, loosely based on The Sign of the Four. Moffat wrote the third, loosely based on His Last Bow.
On the 29 November, 2013, the UK air date was publicised via a hearse driven around London with the date and #sherlocklives displayed. The Season premiered on BBC One on 1 January, 2014.[5] and on 19 January, 2014 on PBS (USA).[6]
This Season deals with Sherlock's return and it is the effect on his relationship with best friend, John Watson. We are also introduced to new character Mary Morstan and a new villain, Charles Augustus Magnussen.
References
Edit
Ad blocker interference detected!
Wikia is a free-to-use site that makes money from advertising. We have a modified experience for viewers using ad blockers

Wikia is not accessible if you've made further modifications. Remove the custom ad blocker rule(s) and the page will load as expected.