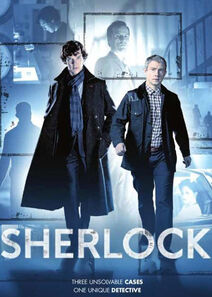 Series Two
Edit
Series Two has some of Sherlock Holmes' most famous cases, and deals with the forging of the mighty Sherlock Holmes[1] and his battle of wills with Jim Moriarty.
References
Edit
↑ Interview with Steven Moffat, bbc.co.uk, Date: 08.12.2011, Last updated: 08.12.2011, at 10.51. Quote: "I think the first series was more about John Watson being redeemed from being a massively traumatised war veteran into a bit of a hero. This year it's more about the forging of the mighty Sherlock Holmes."
Ad blocker interference detected!
Wikia is a free-to-use site that makes money from advertising. We have a modified experience for viewers using ad blockers

Wikia is not accessible if you've made further modifications. Remove the custom ad blocker rule(s) and the page will load as expected.