Rosamund Mary "Rosie" Watson is the infant daughter of John and Mary Watson.
Biography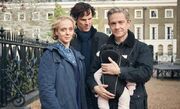 Rosamund is conceived prior to the marriage of her parents John and Mary Watson. During the wedding their friend and Rosie's godfather Sherlock Holmes deduces that Mary is pregnant, and tells them the news during the reception.
Rosamund is named after her mother, having her mother's first and middle name, however her mother's true last name is unknown.
Rosamund has three godparents, Sherlock Holmes, Molly Hooper, and Mrs.Hudson. Although it's possible Greg Lestrade is another.
Trivia
After she is named it is revealed that her mother's name was originally "Rosamund Mary", her father had liked the name "Catherine".
Appearances
Series Three
Special
Series Four
Gallery
References
Ad blocker interference detected!
Wikia is a free-to-use site that makes money from advertising. We have a modified experience for viewers using ad blockers

Wikia is not accessible if you've made further modifications. Remove the custom ad blocker rule(s) and the page will load as expected.