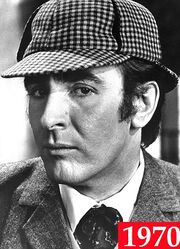 Robert Graham Stephens was a British actor with a distinctive voice, known as much for his Shakespearean roles on screen and stage as anything else. He played Sherlock in the 1970 Billy Wilder film "The Private Life of Sherlock Holmes". He also provided the voice of Aragorn for the BBC's 13-hour radio adaptation of The Lord of the Rings in 1981. Robert was the one-time husband of Dame Maggie Smith, and was married to her when he made "Private Life". Their sons are the actors Chris Larkin and Toby Stephens. Robert was knighted shortly before his death in 1995.
Ad blocker interference detected!
Wikia is a free-to-use site that makes money from advertising. We have a modified experience for viewers using ad blockers

Wikia is not accessible if you've made further modifications. Remove the custom ad blocker rule(s) and the page will load as expected.