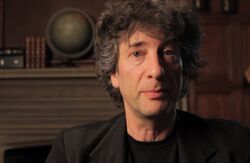 Neil Gaiman (born November 10, 1960; Portchester, Hampshire, England) was the author of "A Study in Emerald", a short story of an alternate-reality Sherlock Holmes first published in the short story anthology Shadows Over Baker Street.
Gaiman is also known for, among other works, the comic book series The Sandman and novels Stardust, American Gods, Coraline, and The Graveyard Book. Since 1992, he has resided primarily in the US.
External links
Edit
Ad blocker interference detected!
Wikia is a free-to-use site that makes money from advertising. We have a modified experience for viewers using ad blockers

Wikia is not accessible if you've made further modifications. Remove the custom ad blocker rule(s) and the page will load as expected.