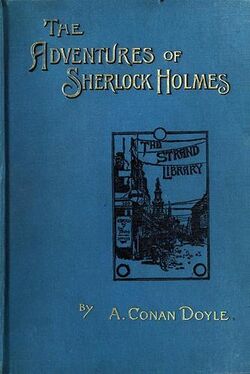 This article features the complete list of Sherlock Holmes mystery stories written by Sir Arthur Conan Doyle.
Frequently, "The Adventure of ..." is dropped from some story titles in current-day anthologies. However, in their original appearance in The Strand Magazine, this is how the titles were given in many cases.
The Adventures of Sherlock Holmes Edit
The Memoirs of Sherlock Holmes Edit
The Return of Sherlock Holmes Edit
His Last Bow Edit
The Casebook of Sherlock Holmes Edit
Sherlock Holmes Novels
Edit
See also
Edit
↑ 1.0 1.1 This story is included as part of His Last Bow in American editions and in The Memoirs of Sherlock Holmes in British editions of the canon
↑ 2.0 2.1 These cases are described to Dr Watson by Sherlock Holmes.
↑

Originally published simply as "A Reminiscence of Mr Sherlock Holmes," this story is made up of two parts given separate titles: "The Singular Experience of Mr John Scott Eccles" and "The Tiger of San Pedro".
Ad blocker interference detected!
Wikia is a free-to-use site that makes money from advertising. We have a modified experience for viewers using ad blockers

Wikia is not accessible if you've made further modifications. Remove the custom ad blocker rule(s) and the page will load as expected.