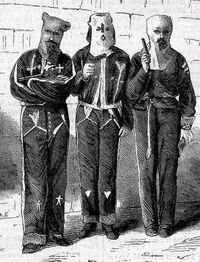 The Ku Klux Klan, commonly known as the Klan or the KKK, is an American secret society, founded in Tennessee the aftermath of the Civil War in 1865 by a group of Confederate veterans led by Nathan Bedford Forrest. The Klan arose as an insurgent movement in opposition to the Reconstruction politics of the postwar South, and used violence to reassert white supremacy by terrorizing black voters and attacking sympathetic white politicians. Though concerted federal action diminished its power in the 1870s, it remained a dangerous force in the South and its actions in concert with those of the numerous similar groups it spawned succeeded in reinstating the complete dominance of whites by the end of that decade.
The Ku Klux Klan is the primary villain of this story, orchestrating the murder of Elias and Joseph Openshaw, in revenge for Elias' theft of several valuable papers, which led to its collapse in 1869. Joseph's son, John, contacts Sherlock Holmes to solve the murders, as he fears he is the next likely target as the killers attempt to recover their lost papers (which Elias had burned). Though Holmes eventually deduces the murders' identity, he fails to save John or bring the criminals to justice, as the Klan members and their leader, James Calhoun, are drowned at sea when their ship sinks in a squall.
Ad blocker interference detected!
Wikia is a free-to-use site that makes money from advertising. We have a modified experience for viewers using ad blockers

Wikia is not accessible if you've made further modifications. Remove the custom ad blocker rule(s) and the page will load as expected.