Jeff Hope's victims are four unrelated people who are murdered by serial killer Jeff Hope after being forced at gunpoint to play against him in the pill game.
James Phillimore
Edit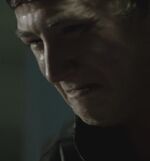 James "Jimmy" Phillimore was a first year student at Roland Kerr Further Education College and garage worker who was the second victim of Jeff Hope. He was 18 at the time of his death.
On the night of November 26, 2009, James and his best friend Gary Jenkins were walking down a rainy London street. James decided to walk home to collect his mother's umbrella. He caught a cab driven by Jeff Hope, who took him to the Norbridge sports centre. Jeff then forced him to chose a pill bottle and consume a pill, possibly by gunpoint. He chose the fatal pill and promptly died from poisoning.
Later James is seen crying in the gym while taking a capsule from a jar. His body was found at seven o'clock the next morning. A newspaper article by the crime correspondent Aileen Hickey announces his death.
Beth Davenport
Edit
Beth Davenport was a politician and Junior Minister for Transport. On 27 January 2010, she held a wild party in London with loud, pounding music to celebrate her birthday. Unbeknown to her, one of her aides took her car keys out of Beth's bag, seeing as Beth was too drunk to drive.
Later that night Beth left the party and made her way to her car. Finding that her car keys were missing from her bag, she looked around in desperation for a means of transport. At this moment,Jeff Hope's cab pulled up and Beth decided to catch the cab. Jeff drove her to a building site in in a fenced yard full of rental containers, before offering her one poison pill and one harmless pill. She chose the fatal pill and soon died from the poison.
Jennifer Wilson
Edit
See main article: Jennifer Wilson.
Sir Jeffrey Patterson
Edit
See main article: Jeffrey Patterson.
Ad blocker interference detected!
Wikia is a free-to-use site that makes money from advertising. We have a modified experience for viewers using ad blockers

Wikia is not accessible if you've made further modifications. Remove the custom ad blocker rule(s) and the page will load as expected.