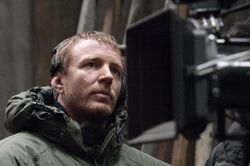 Guy Ritchie (born 10 September, 1968; Hatfield, Hertfordshire, England) is the director of the 2009 Sherlock Holmes film and the 2011 sequel, Sherlock Holmes: A Game of Shadows. A third Sherlock Holmes film was planned, for which Drew Pearce was writing the script, but as of 2016 nothing has been officially confirmed.
Ritchie has been a screenwriter, film director and producer and is probably best known for directing Lock, Stock and Two Smoking Barrels, Snatch, Swept Away, Revolver, and RocknRolla. Despite all his cinematic work, however, he is probably at least as famous for being Madonna's ex-husband.
External links
Ad blocker interference detected!
Wikia is a free-to-use site that makes money from advertising. We have a modified experience for viewers using ad blockers

Wikia is not accessible if you've made further modifications. Remove the custom ad blocker rule(s) and the page will load as expected.