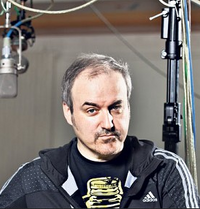 David Arnold (born 23 January, 1962; Luton, Bedfordshire, England) is one of the composers of the soundtrack of Sherlock.
Arnold is a film composer best known for scoring five James Bond films, the 1994 film Stargate, the 1996 film Independence Day, the 1998 film Godzilla and the television series Little Britain.
Steven Moffat commissioned him to write for Sherlock, and he has written for all three series. Arnold has said of Sherlock that it was the best television he had seen in years and gave him the opportunity to do work that was "more introspective than a lot of the films I work on". Arnold has said of his work on Sherlock that:
"The way I always start composing is by working out what lies at a show's heart. In Sherlock, for instance, there's lots of action, but what's actually at the core is this relationship between two men. The music always needs to give you access to the emotional aspect of the story."[1]
External links
Edit
References
Edit
Ad blocker interference detected!
Wikia is a free-to-use site that makes money from advertising. We have a modified experience for viewers using ad blockers

Wikia is not accessible if you've made further modifications. Remove the custom ad blocker rule(s) and the page will load as expected.