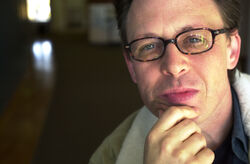 Bill Condon (born 22 October, 1955; New York City, New York, United States) is the director of Mr Holmes.
Condon is a screenwriter and director, best known for directing and writing Gods and Monsters and Kinsey and for directing Chicago, Dreamgirls and the two final instalments of the Twilight series, The Twilight Saga: Breaking Dawn – Part 1 and The Twilight Saga: Breaking Dawn – Part 2.
Condon has previously directed two actors who have played Sherlock Holmes: Ian McKellen, who will play the title character in Mr Holmes, and who played horror film director James Whale in Condon's 1998 film Gods and Monsters; and Benedict Cumberbatch as Julian Assange in The Fifth Estate.
External links
Ad blocker interference detected!
Wikia is a free-to-use site that makes money from advertising. We have a modified experience for viewers using ad blockers

Wikia is not accessible if you've made further modifications. Remove the custom ad blocker rule(s) and the page will load as expected.