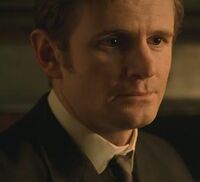 This is a page for the character from Murder Rooms. For the real life author of the Sherlock Holmes stories see Sir Arthur Conan Doyle.
Arthur Conan Doyle is a fictionalised version of Arthur Conan Doyle, the man who wrote the Sherlock Holmes books, who appeared in the 2000-2001 BBC mini series, Murder Rooms.
Murder room's premise is the crime solving adventures of Doyle and Joseph Bell, a doctor and teacher whom Sherlock Holmes is based on.
Biography
University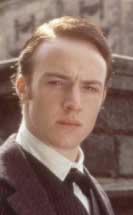 Doyle first appears in Dr Bell and Mr Doyle, when he has just started attending medical school at the University of Edinburgh. He first is taught by another teacher, but finds his teaching dry and boring and decides to attends Joseph Bell's class.
He is unsure whether to attend Bell's classes as he is viewed as an eccentric and Doyle thinks his observation skills are fake. Doyle visits to the department of clinic surgery, Bell's department, to get another thoughts on Bell, where Mistaking Bell for a labtech, he ends up talking to Bell about Bell's methods.
Doyle attends one of Bell's classes and realises that he was mistaken and accepts Bell's offer to become his labtech. He sees that Bell disappears from the university randomly without telling any one and so decides to follow him where he finds out that Bell secretly consults with the police on murder cases.
Adult life
Note: This is a generic section stub. You can help Baker Street Wiki by expanding it.
Behind the scenes
Ad blocker interference detected!
Wikia is a free-to-use site that makes money from advertising. We have a modified experience for viewers using ad blockers

Wikia is not accessible if you've made further modifications. Remove the custom ad blocker rule(s) and the page will load as expected.