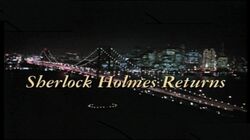 1994 Baker Street: Sherlock Holmes Returns is a 1993 CBS television film written and directed by Kenneth Johnson. It stars Anthony Higgins as Sherlock Holmes.
Plot
Sherlock Holmes is awakened in modern times from suspended animation as a result of an earthquake. He is aided in his recovery by Dr Amy Winslow, who lives in Baker Street in San Francisco. Holmes pits his wits against the descendants of the Moriarty family, led by James Moriarty Booth. He is also aided by a new group of Baker Street Irregulars led by Zapper.
Cast
Anthony Higgins - Sherlock Holmes
Debrah Farentino - Amy Winslow
Ken Pogue - James Moriarty Booth
Kerry Sandomirsky - Mrs Ortega
Mark Adair-Rios - Zapper
Trivia
External links
Ad blocker interference detected!
Wikia is a free-to-use site that makes money from advertising. We have a modified experience for viewers using ad blockers

Wikia is not accessible if you've made further modifications. Remove the custom ad blocker rule(s) and the page will load as expected.